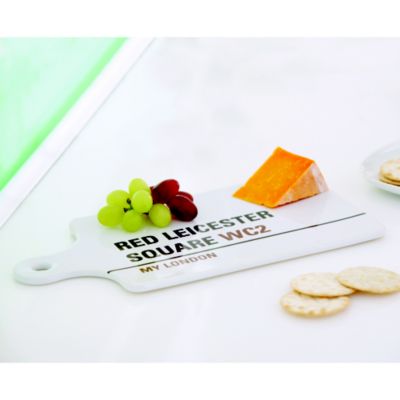 This weekend, I visited
George Mewes Cheese
on Byres Road, in Glasgow. This place is a cheese lovers' paradise, where you could easily spend a morning just tasting samples of the various cheeses on offer and learning loads from the knowledgable staff into the bargain. I could also just as easily spend a fortune in there, I appear to have expensive taste - my favourite cheese of the day was £42 per kg!
Once you have all your fabulous cheeses you'll need something to eat it from. If you've been watching the London Olympics on TV (or sneakily online from your desk, we're all doing it), how about a cheeseboard in the style of an iconic London street sign? The one above is £9.99 from
Lakeland
.
I don't really know what all these cheese knives are for but I like the colours. Plus, owning them would make me look like I know what I'm talking about. These ones are £12.40 from
Amazon
.
You'll need somewhere to keep all your cheese and this cheese larder from
Cheese Works
is designed to let your cheese breathe (there are few thing worse in this world than sweaty cheese). At £29.95, it would make the perfect addition to your kitchen or dining room or, it would be a brilliant gift idea for the cheese fan in your life.