"'
Well, I'll eat it,' said Alice, 'and if it makes me grow larger, I can reach the key; and if it makes me grow smaller, I can creep under the door; so either way I'll get into the garden, and I don't care which happens!'" If the story of Alice's Adventures in Wonderland teaches us anything, it's to not just eat or drink anything labeled "Eat Me" or "Drink Me" without first considering the consequences. I'm pretty sure there are few consequences to helping yourself to a cup of tea and a biscuit from these Lewis Carroll inspired glass tea and biscuit jars, from Primrose and Plum. They're £14 for the pair, then you could be whisked off to Wonderland every time you sit down to a cuppa and a biccie.
"Soon her eye fell upon a little glass box lying underneath the table. She opened it and found in it a very small cake, on which the words "EAT ME" were beautifully marked in currants." If, like me, you don't like currants, you might need to label your cakes in a different way. This cake topper and cocktail stick set, from Miss Cake is just the thing and would be perfect for a tea party with the Mad Hatter. It's £5.49 for the set and they come in a massive choice of colours.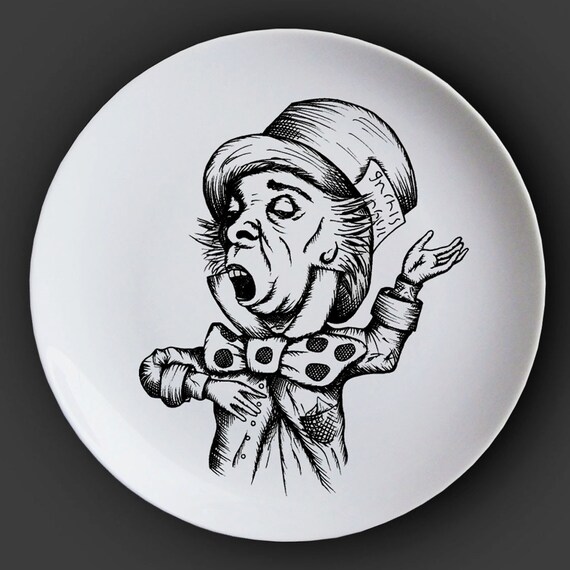 Now that you've suitably labelled your cakes and biscuit, you'll need something to serve them on. Quite honestly, you'd be guaranteed to impress with any of the plates from
Eleanor Stuart's Alice Collection
on Etsy, but I particularly love this one with the
Mad Hatter
. It's £20 for a side plate and £30 for a dinner plate each one is fine bone china and decorated by hand using traditional methods.
So, come and join us for tea, "We're all mad here."
All quotes are from Alice's Adventure's in Wonderland, by Lewis Carroll.