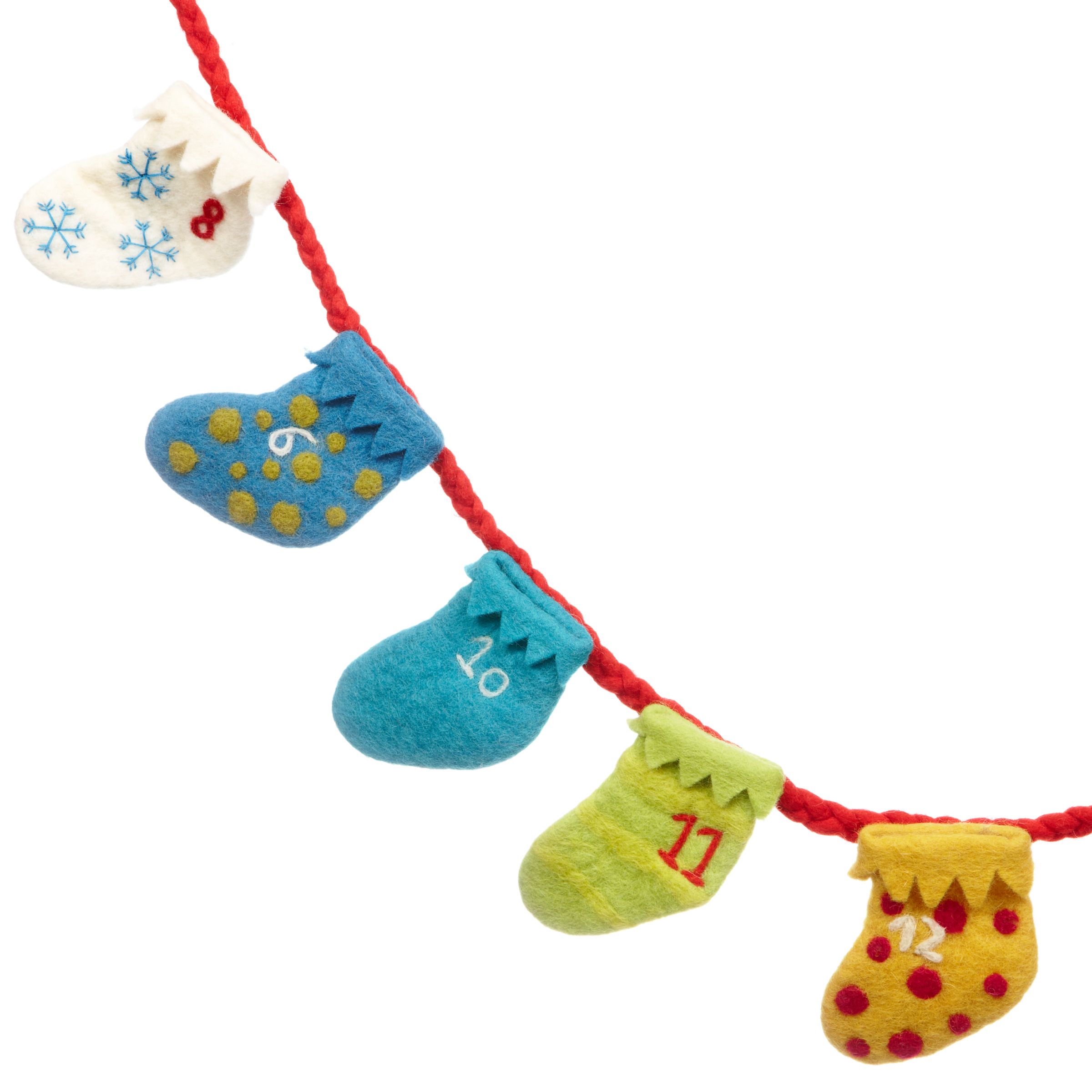 Before someone else points it out, I'll concede that advent calendars - with the pictures behind the wee doors - are all gluten, dairy, nut and sugar free. That's all well and good, but the run-up to Christmas needs chocolate. Daily chocolate, hiding behind numbered flaps (in addition to those selection boxes you buy "in case I forget someone", but you fully intend to eat yourself). Of course, you could get a fill-it-yourself number and put your own choice of confectionary in it to suit your own particular dietary requirement. I love this
advent garland
- £30 from
John Lewis
- and its cute stockings that you can load with chocolate coins or
retro sweets
for years to come. Just don't raid the contents whenever your sweetie stash runs low - that kind of takes the magic of anticipation out of the whole experience.
This may be the season to gorge ourselves until we're queasy, but some of us have to watch our sugar intake. Plamil's
no added sugar advent calendar
means that everyone gets chocolate this year! Ok, the elves have a creepy Oompa-Loompa vibe about them, but I'm willing to move past that since the chocolates are suitable for vegetarians, vegans and Coeliacs, as well as being made in a facility that never use nuts. You can get yours over at
Goodness Direct
for £4.96.
Dairy free? No problem! The wonderfully named
Moo Free
have this
dairy free advent calendar
, filled with organic milk chocolate (they use rice milk, not all dairy free chocolate has to be plain, y'know). Moo Free make delicious free from chocolate all year round (their
caramelised hazelnut
bar never lasts long in my hands) so you can guarantee that this advent calendar will be pretty damn good too. You'll find this in health food shops,
Waitrose
and (rather strangely)
Toys 'R' Us
for around £5.
While I'm completely comfortable displaying a giant hamster wearing a santa hat on my wall, I do understand that sometimes you want a slightly more sophisticated advent calendar. Fortunately,
Hotel Chocolat
are great at labelling their Christmas goodies for the more 'dietetically challenged'. This
white chocolate calendar
is beautifully wintery and jut happens to be free from gluten, egg and alcohol. It might be £12, but the chocolates are a decent size and you can expect them to live up to the high standard of Hotel Chocolat.
Oh, if you're wondering - yes, the
Ginvent Calendar
is gluten free...